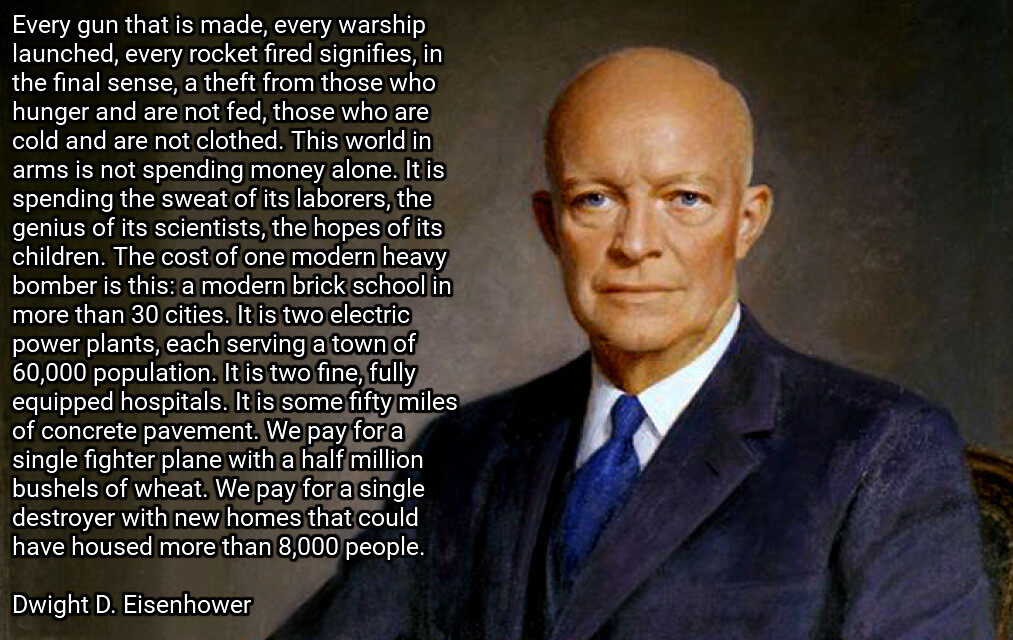 Introduction
War represents the supreme failure of nations to resolve their differences. From a strictly pragmatic standpoint, it is the most inefficient waste of lives and resources ever conceived.

Jacque Fresco
Did you know that:
If you would like a another perspective from 2017 check out this article and map which shows that most of the world see the US as the greatest threat to world peace: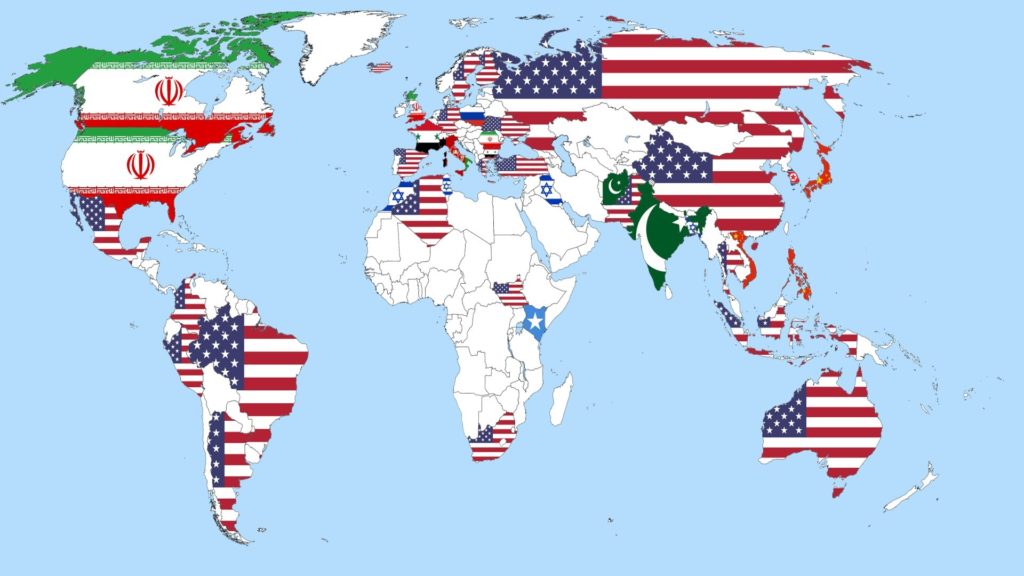 We can start to heal the horrific moral, psychological, and emotional wounds and trauma our country bears and has inflicted upon the rest of the world by:
stop sponsoring war and terrorism
not supporting terrorist regimes for profit
not being a global terrorist organization ourselves
Also, the great thing about this process is that it does not cost us anything to accomplish this, because through this process we will reclaim the money that currently supports the US' Global Terrorism Projects (US GTP) and redirect it to support the people, peace, the environment, stopping climate change, and NASA. This alone will help to afford much of everything else on this site because of the massive return on investment from such powerful projects.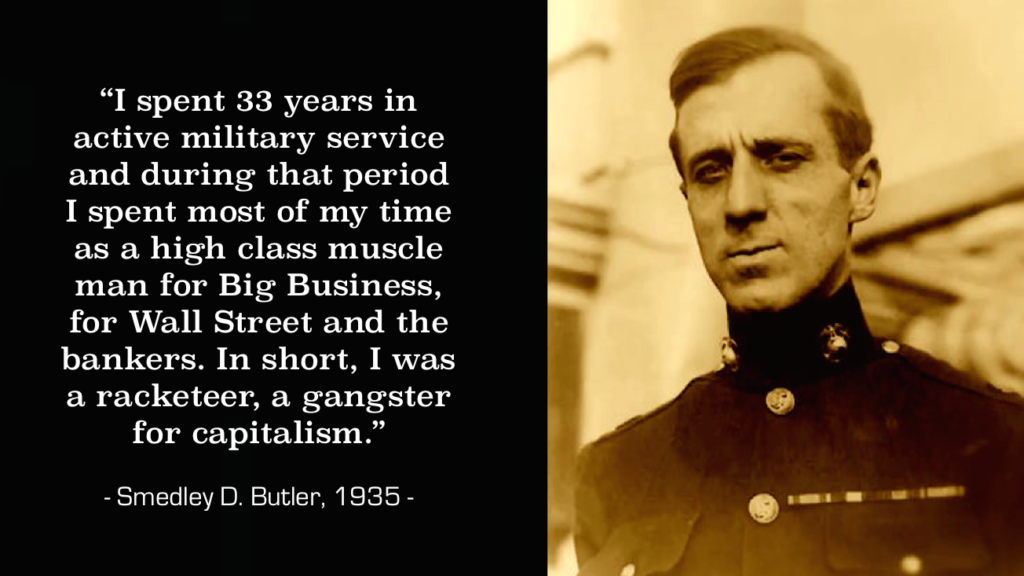 War Profiteering
US War Spending
The United States is not really a country anymore. It is the largest supranational corporate conglomerate with its own private military which is, by far, the largest in the world, and, by virtue, America's largest export is terrorism. =(

James E. O'Neill IV
Because most defense spending since WWII has not been about freedom or defense, but has been about corporate profits driven by the the Four Deadly Industries (banking, defense industry, fossil fuel, and pharmaceutical industries) we need to:
Cut the defense budget by 75% to start. Even with a 75% cut we will still have the largest military budget in the world.
Close all of our global military bases except for maybe one per geopolitical area.
The Pentagon will have to answer for its lost trillions and people will go to jail.
Defense and Weapons Contractors
I love the war in Yemen.
It is great for profits!

Marillyn Hewson, CEO of Lockheed Martin
Non-Profit: They should be true non-profit organizations, for to profit from war and violence is to need war, violence, and conflict, which guarantees that war and the destruction of human lives shall never end due to the need to drive perpetual corporate profits and therefore perpetual war.
Extra Taxation: They should also be subject to a significant taxation because selling death and war should not be an industry to profit from easily.
End Contracts: All contracts for weapons to all foreign entities shall be nullified unless they meet ethical and philosophical requirements from the Economies for the Common Good (to which we will also have to meet).
End Private Military Organizations: Private Paramilitary and Black Ops Organizations (PPBOO) shall be completely disbanded, and their arms and armor reclaimed. To Profit from war means a need for endless war and conflict.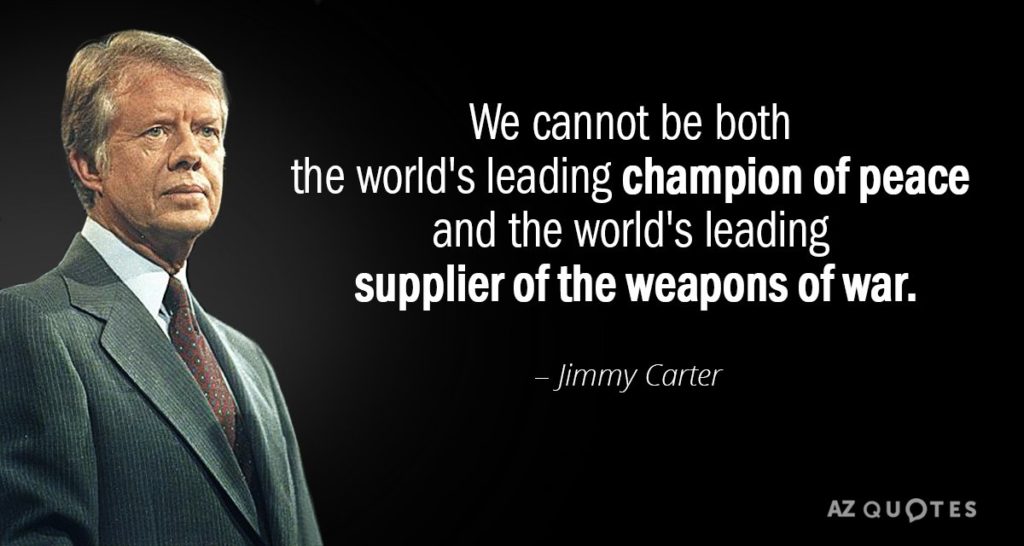 Austerity Measures and Economic Warfare
Especially as implemented through the International Monetary Fund (IMF), Austerity Measures are economic warfare and should be abhorred and prevented for it usurps national sovereignty and it strips natural resources from its people and casts them into poverty, while allowing US companies to profit from such processes which is highly unethical and abhorrent.
All austerity based loans need to be terminated with extreme prejudice.
All foreign companies that have gained from such processes must return such resources and industries back to the ownership of their respective countries.
All IMF loans and other global national loans:

…must NOT be based upon austerity or the subversion of sovereign resources for foreign use
…but must be based upon increasing quality of life such as reducing poverty and homelessness, or increasing education, clean water, recycling, sustainable energy, etc. Such loans and other assistance must also meet Economies for the Common Good values.
Domestic Control
End Domestic Control Organizations and Laws
We need to end:
Patriot Act
Homeland Security
ICE (Immigration and Customs Enforcement)
Drug Enforcement Agency (DEA)
Reclaim Armistice Day
Armistice Day was originally created as a day to commemorate the end of World War I, to commemorate the end of war and the beginning of peace. It was then renamed to Veterans day to honor those who served in the military, especially those who died. This was a subtle shift to celebrate not the end of war, not the beginning of peace, but to celebrate those who served which ensures that on this day that we do NOT concentrate on peace or on ending war, but to glorify those who die for the corporate required wars.
We need to return this holiday to Armistice Day so we can celebrate the ending of wars and talking about peace so that we do NOT glorify humans killing humans for corporate profit. We need a day where we nationally celebrate peace and end ending of wars, where we teach peace in our classrooms and in the news, a day which will save the lives of our children globally. I first wrote about Armistice Day here in A Veteran's Reflection on Veterans Day.
This is an amazing video Reclaiming Armistice Day (Acronym TV, Nov 2015) which covers this topic well:
Stop Supporting and Creating Terrorists and Terrorist States
Introduction
Since this method has ended up in only more death, pollution, and poverty the CIA and other US governmental agencies, should stop creating (funding, training, and arming) terrorist organizations such as:
ISIS
Al Queda
Taliban
Stop Terrorizing and Overthrowing Governments
Pull out of the Middle East and completely stop the flow of money and resources from the US to that area, especially to buy oil, unless it is to assist in rebuilding without using US contractors, only using local contractors, or this becomes a money grab like it already is – Haliburton.
We need to stop assassinating leaders and sponsoring the overthrow of governments for corporate profit, especially when they decide to shift away from the US Dollar, so we can usurp national resources, or for any other broken reason. This has never worked out and only ends up with the people suffering and creating refugees.
Our victims include these and many, many, many others:
Iraq
Afghanistan
Libya
Venezuela
Read More:
Stop Supporting Terrorism and Terrorist States
We need to completely stop supporting terrorist states and those with massive human rights violations such as:
Arabic states
Israel
We need to not only stop supporting these states, but we also need to Boycott, Divest, and Sanction (BDS) them too.
Israel and Palestine
I am not sure what the full answer is here because this is an amazingly complex issue, but we can start with:
AIPAC must register as a foreign lobbying organization
a two state solution
Palestine

Immediately recognize Palestine
Open embassy in Palestine

Israel

giving back ALL the land that it has illegally taken
charging Israeli officials with War Crimes at the Hague
paying reparations for the war crimes it has committed
Nuclear Arms
Nuclear war needs to be outlawed internationally as a Crime Against Humanity and a Crime Against Nature.
Complete and total global nuclear disarmament including nuclear reactors – no exceptions.
Completely recycle nuclear arms
Turn missile silos into sustainable bunkers to help the peoples of the world to prepare for the 6th Great Extinction and the horrors of climate change and the brutal self-inflicted disasters to come.
Nuclear weapons are for cowards.